Hi Everyone
We have gone a little out of order with the updates, as we thought that the High Kings performing for President and Mrs Obama at the White House was too special to wait and we wanted to share it with you as soon as possible. But now Darren and the rest of the High Kings are back in Ireland, it is time to wind the clock back. We are now bringing you all the news, photos, and videos from their headlining performance at the Mayor of London's St Patrick's Day Festival in Trafalgar Square on the eve of their trip to Washington. It was quite a week in HK World!!
"Happy St Patricks Day everyone! Lets paint the world Green tomorrow!
Looking forward to heading to London on Sunday morning where The High Kings will headline a massive outdoor festival in Trafalgar Square at 5pm on Sunday evening. Then its on the USA where we will ..........well, as much as I'd love to tell you, you'll just have to wait and see. Here's a hint....I have done it before I became a High King. : )"
"Well, heading to bed (yes bed!!) due to a 4am start in the morning to London. Should be a great day! See you all there HKUK.
Then on to the USA for a few days with a very special event on Tuesday."
"Soundchecked a few hours ago in Trafalgar Square, ready to rock London at 5pm! Should be a blast. There is a HUGE crowd gathering so bring it on!!!"
Sharing the Memories - The Videos
The DH Team were in London to film the High Kings headline performance. Here are a couple of videos from the set.
This player has all 12 songs in order so you don't have to miss a single moment of a very special day!
Sharing the Memories - The Photos
The High Kings on stage taken from the back of the square. Photo courtesy and copyright of Abby Simms.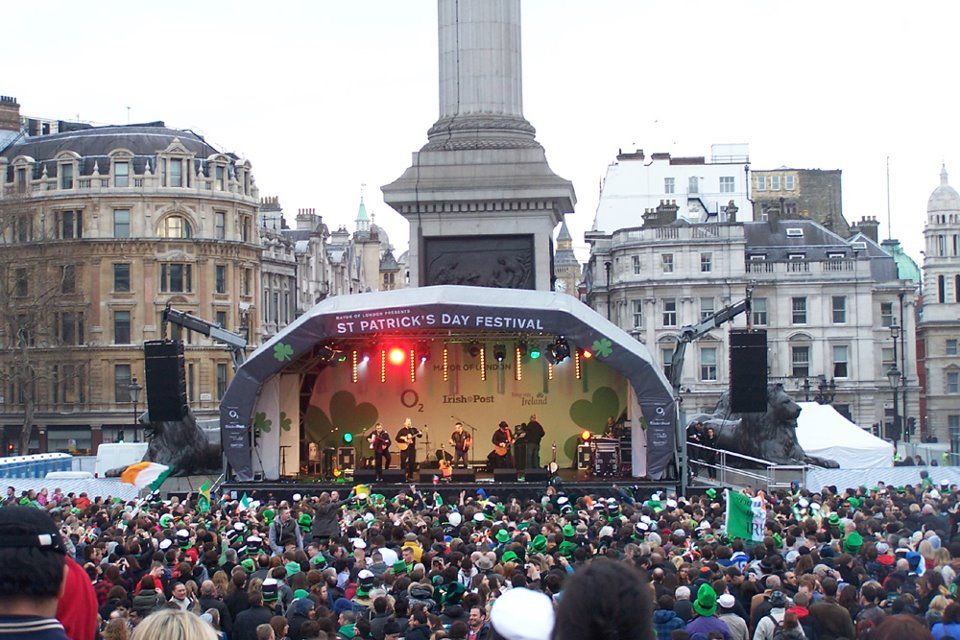 A very 'High King'. Video screenshot of the very last note of Leaving of Liverpool!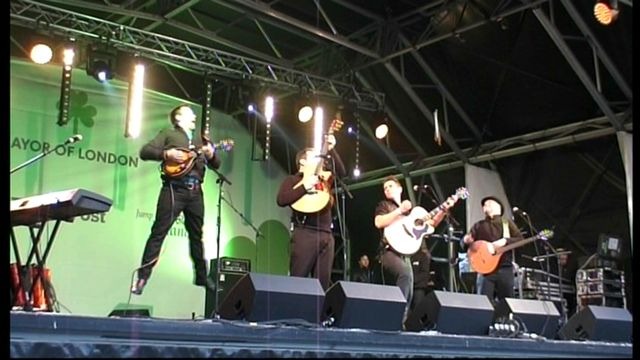 This photo slide has all the photos from a very special day!
"What a day! Seriously one of the best. 15,000 people in Trafalgar Square London, who waited all day in the cold for us. We had a ball. We played- they sang! Amazing. So great to catch up with so many friends, like Donal and Gino from "4 Men and a Dog" and my buddy Oliver from Porterhouse. Laughed all day long and absolutely loved the 2 muppets who climbed the water fountain after our set and waved the Irish Flag at security. : )
One to remember.
Early start to the USA in the morning."
The High Kings got a fantastic reception from a very enthusiastic crowd, a high percentage of who didn't know them and very few who would have seen them live before. They certainly won't forget them. It wasn't a bad warm up for the White House!

"On route to Lillies Bordello. I am live in The Library at Midnight."

"Brilliant vibe tonight in Lillies.Great gig. Totally delighted to see my buddy Bill Quigley from Boston who came along to hang out and presented me with 4 amazing Custom police badges for myself and the lads in THK.
What a great guy. Cheers Bill!"

"One of the nicest things I have ever been given. A customised US Police badge courtesy of my buddy Bill."

"Late show's at Lillies, complete with the clocks going forward, make for a very tired boy! Good job that it's such a beautiful morning with cracking weather.
My thoughts go out to my lovely Michelle who has to work today. : ("

"What an amazing day! Hope this isn't our summer : )
Chilling in the garden with the kiddies, wish mummy was here."
A very special night coming up!

"Hey everyone. Tune in to "TIPP FM RADIO" tomorrow at 12.30pm, when I'll be chatting live on air with Fran Curry about The High Kings upcoming concert at The Park Hotel, Clonmel on Saturday April 14th.
We are doing the show in aid of "My Canine Companion" a very worthwhile charity which provides highly trained dogs to children with autism.
I can confirm that there is a massive buzz about this show, and tickets are moving very fast. Tune in tomorrow for more details."

That's all the news for now. We hope you enjoyed catching up on all the events in Trafalgar Square.
Thanks for your continued support.
Darren and the DH Team